genPS3ISO GUI 1.3.2 updated 2013-12-07!
Another quick GUI for the command line tool genPS3ISO by Cobra-USB. This tool let you create a proper ISO image from a PS3 game's folder.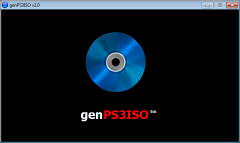 New in 1.3.2:
The program now auto-renames all the DATA000.pkg files found the PS3_EXTRA folder to DATA000.PKG. This fixes the installation error
80010006
in COBRA 7 installing extra content from ISOs with PS3_EXTRA folder, if the pkg is not named as
DATA000.PKG
(in UPPERCASE). Thanks to master
deank
who helped me to debug the issue.
Features: Allows drag & drop, Run as Administrator to auto-register as a shell-extension for Explorer. Right-click on any folder to make an ISO.
Example of ISO created:
AUTOBOOT.ISO of Fan Control Utility 2.02

Create PS3_EXTRA 1.3.3 updated 2013-12-07!
This tool scans for the PKG, MP4 and P3T files copied to each game folder, its PS3_UPDATE folder, PKGDIR or PS3_CONTENT, and store them under a PS3_EXTRA structure. It scans for the PKG, MP4 and P3T files copied to each game folder or its PS3_UPDATE folder, and stores them under a PS3_EXTRA structure. When a game is mounted with multiMAN, there will be 2 BD icons on the XMB: one disc for the game itself and another with PKGs, MP4 and P3T. It should make it easier to install the game patches, DLC, fixes, and related videos.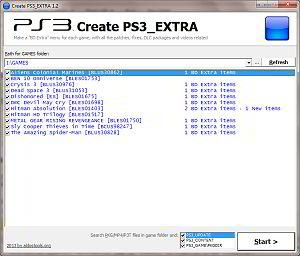 Changes in 1.3.3
: The program now auto-renames all the DATA000.pkg files found the PS3_EXTRA folder to DATA000.PKG. This fixes the installation error
80010006
in COBRA 7 installing extra content from ISOs with PS3_EXTRA folder, if the pkg is not named as
DATA000.PKG
(in UPPERCASE). Thanks to master
deank
who helped me to debug the issue.
TIP:
As COBRA7 CFW supports split ISOs, this tool can be useful also to create ISO images that let us to install PKG files larger than 4GB directly from an external USB drive, without having to transfer it to the internal HDD via FTP or needing 2X the required free space in the internal HDD to install the PKG.

IRISMAN 2.60B-8 (mod) updated 2013-12-07!
This is an unofficial version of Iris Manager 2.60B by Estwald/D-Skywalk. This version includes all the nice Cobra features added by Estwald. The changes that I made are mainly related to the user interface (buttons layout are more XMB-like, quick access to File Manager, progress bar when game list is scanned or file permissions are applied, colors, 4 gui modes, etc.). It also includes the Payloads for 4.41DEX/4.46DEX/4.50DEX and the grids 8x6 and 6x4 from Rancid-O's PS3ITA Manager. The most notable feature is that unlike the official version, it scans GAMES/GAMEZ/GAMES_DUP/GAMES_BAD on the external drives.


Source Code:
here
Changes in
2.60B-8
: Added payload 4.53CEX from HABIB's fork of "Iris Manager 2.62".
[+] Features

Fan Control Utility (ISO/No GUI) 2.02 updated 2013-12-07!
This is an unofficial version of Fan Control Utility by Estwald that auto-quits immediately to XMB after set the fan policy. Hold X for 10 seconds to enable the GUI. The settings will be saved in the internal HDD, if the included PKG is installed and dev_hdd0/game/CTRLFAN00/fan_speed.dat exists.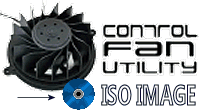 New in
2.02
: Added payload 4.53CEX from HABIB's fork of "Iris Manager 2.62".
Note:
The AUTOBOOT.ISO for COBRA 7 auto-quits. There are 2 PKG files: one has no GUI, the other always shows the GUI. If you use 4.46 COBRA 7, you can use the Dynamic Fan Control option in
webMAN 1.21
Credits:
Thanks to
Estwald
for the PS3L1GHT environment and the open source project. Thanks to
HABIB
for the payloads for 4.46/4.50/
4.53CEX
. This is my first compilation of an application for PS3.

PS3 Bruteforce Save Data 4.3.2 updated 2013-12-06!
It's a frontend for flatz save data tools 0.2.3. It finds the keys of several games in seconds and let you resign your saved games and trophies. A wide selection of cheats and checksums for over 1004 titles is also available ready to be applied to the saves.



Features:
Resign trophies or saves, preview images of trophies, direct FTP download/Upload saves or trophies from/to PS3, unlock saves/trophies to work on any PS3 account, unlock saves/trophies with FAKE account id, added
support for Game Genie cheats
, fixed issue with patch SFO, improved load time. Multiple saves can be resigned in a single step. Direct update of the repository of cheats from
ps3cheating.net
.
Patch Creator 1.8.8
plugin to assist in the creation of save patches and quick access to
PS3 Save Portal
with several saves that only need to be resigned.
TIP:
After you resign and replace your trophies, it is required to Rebuild Database through
Recovery Menu
, and launch a game that will do "Sync Trophies" on it's startup in order to get the trophies working properly.
Changes in 4.3.2:
fixed issue with certain saves detected as UNPROTECTED.
Special thanks to
flatz, chaoszage, skillerCMP, gingerbread, zeick, keha, SHAkA, X-GHOST-X, Zephyer, ngu-tripate, Red-EyeX32, butnut, acab, Petar, Dreamcat4
and many others ;)

PKG ContentID 2.5.3 updated 2013-12-04!
It's a tool for view quickly the ContentID of a PKG. It also manages several file associations for a seamless integration with Windows Explorer. Please read the readme for details.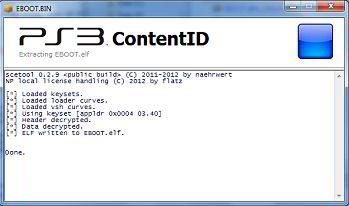 Download:
http://www.sendspace.com/file/5ayd4l
NOTE:
On Windows 7, the context menu for convert RIF/RAP files is not available when you select more that 15 rif/rap files. To fix this issue download
this registry fix
and double click on the
Fix_Context_Menu_Limited_to_15_items_on_Windows_7.reg
New in 2.5.3
- Fixed a bug in the auto-update of PS3_System_Ver in PARAM.SFO creating new PKG or resigning a EBOOT/SELF/SPRX
The option can be enabled/disabled clicking on the big blue-icon at the top-right of the window of PKG Content ID
- Fixed issue displaying the content ID of some PKG files
[+] Previous changes
Special thanks to
naehrwert, flatz, BuC, DeanK, acab, PatrickBatman
and many others ;)

XMB Manager+ 0.22.010 (mod) for COBRA 7.0 updated 2013-12-03!
This is my modified version of the XMB Manager+ originally released by Team XMBM+. It has some new or different features and a different order of the icons. This version of XMBM+ (mod) includes the files & instructions to have webMAN 1.21 and XMBM+ running on 4.46 COBRA 7.0.

Changes in 0.22.010: Added option on webMAN's menu to refresh the cached game list in HTML through XMB (requires webMAN 1.21).



Thanks to manster @ ps3hax.net for the video (recorded on 3.55 Rebug)


CreateHardLink 1.1.1 updated 2013-11-26!
Do you need a copy of your giant ISO, virtual HDD, movies or any other file in a another folder (e.g. for network share) and don't want to waste the extra hard disk space? This Win32 tool (inspired tool on multiMAN's mmOS shadow copy feature) lets you create a "hard link copy" of your files stored on NTFS drives without expend the extra HDD space.

Changes in 1.1.1: Paste Hard Link option can be accessed without select any folder item. Other minor changes.

IMPORTANT: A symbolic links to directories are "shortcuts" that behave like a path redirection. A "hard link copy" is the same original file just with another file name. Any modification made to one file will be reflected on all the other copies. Hard links don't work on multiple volumes or hard drives formatted in FAT32.

[+] Installation & Usage


PS3 Covers Uploader 1.01 updated 2013-11-24!
This is a specialized FTP client that auto-converts any image (PNG, JPG, GIF, BMP, TIF) to the proper cover size of 260x300 used by multiMAN, and auto-upload it as JPG to the proper covers path. Supports: drag & drop of multiple files, browse dialog, copy & paste image or URL from clipboard.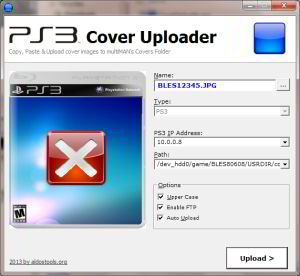 Changes: Fixed few bugs.
Note:
Use
multiMAN
or
webMAN
as FTP Server. It's also a great companion for
Tidy CoverAgent
.

PS3WebTemp 1.0 new 2013-11-24!
This is a small semi-transparent web window that stays always on top. It can connect to your PS3 console to monitor the CPU and RSX information. Requires webMAN 1.21 running on a 4.46 COBRA 7.0 compatible CFW. The plugin and instructions are included in the XMB Manager+ (mod).



DroidMAN new 2013-11-19!
The developer simogh released an Android application to access webMAN 1.21 from your tablet and smartphone.



PS3 FTP Client 3.0.6 updated 2013-11-19!
It's a full FTP client that allows remote access to your PS3 via a PC. It is still a WIP and some features are not complete. Currently the main feature is the PS3 file ripper via FTP. Other features include: file description, view cover image for selected folder, multiMAN remote commands, etc.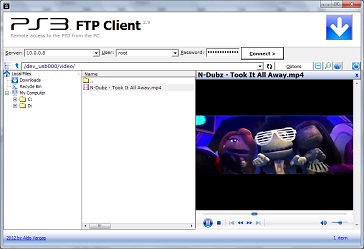 > Note:
Use the PS3 FTP Client with care!! Remember that it touches the internal files in the HDD of your PS3.. The
PS3RIP
is safer.
Recent changes: New keyword shortcuts: bdiso, dvdiso, ps3iso, ps2iso, pspiso, psxiso, xmb, xil, pkg, roms, themes, iris, irisman, covers, plugins. [Other shortcuts: mm, mmsys, g, game, games, gamez, p, p0, p1, u0, u1, v, v0, m, home, task, st, showtime, multiman, mmcm, brd]

PSISO Tool GUI new 2013-11-10!
I have created this quick GUI for the command line tool made by CaptainCPS-X that allows us to patch the PS3 ISO images that were not created with genPS3ISO or multiMAN, and make them to work on COBRA 7.0 CFW.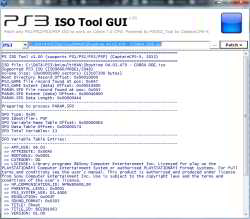 Thanks to CaptainCPS-X @ ps3hax.net for this useful tool

PARAM.SFO editor 2.8.7 updated 2013-11-08!
It's a tool to edit PARAM.SFO files (from PS3 GAMES, SAVE DATA, PSP, etc.) and the PARAM.SFX files created by "Create PS3_EXTRA" (see it below).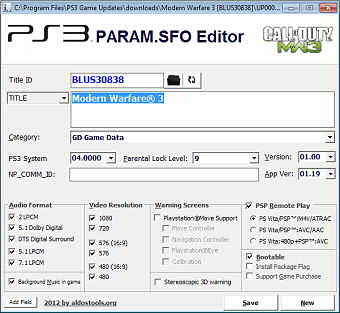 Supports drag & drop of PARAM.SFO, PARAM.SFO as command line, browse for SFO/SFX file, double click on SFO file, edit ATTRIBUTE fields (background music, PSP/PSPVita remote play, warnings), add new fields, make SAVE GAMES compatible with your PSN ID.
Changes in 2.8.7:
- Small change in label/tooltip for Install Package Flag (it's needed also for PS3_EXTRA).
[+] Previous changes

lastGAME Customizer 1.3
updated 2013-11-05!
This new tool takes advantage of the
customization options
that multiMAN's
lastGAME
applet offers, allowing to create PKG files that mount games, PS1 games and AVCHD movies directly from the XMB, without having to launch multiMAN's GUI (btw lastGAME = multiMAN without GUI).
> > > > > Link fixed!! It was uploaded to the wrong folder by mistake... My apologies < < < < <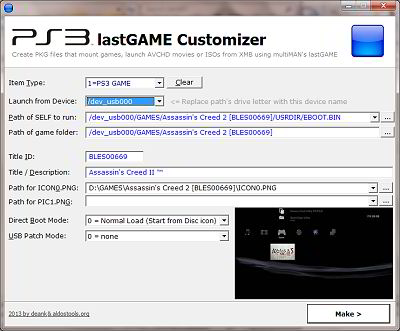 Features:
Current version supports lastGAME 4.1 and the newest lastGAME 9.0:
9.0: loads the new multiMAN's payload on 3.55, 4.21, 4.30, 4.31, 4.40, 4.41, 4.46 and 4.50
9.0 COBRA: for COBRA 7.0 CFW implemented on 4.46 Rogero v1.00
multiMAN 04.20.00+ is required for PSX isos
4.1: loads Hermes payload for firmwares 3.41, 3.55, 4.21, 4.30 (multiMAN is not required)
Allows to connect to PS3 via FTP to retrieve the list of games installed on HDD or on external devices
Supports drag & drop of multiple folders (x:\GAMES) to create multiple PKGs instantly
Supports command line interface (CLI). Use /? for info.
Allows to mount ISOs (PS2, PSP, PSX, DVD, BDM) and load remote backups (Cobra dongle is required)
Support direct boot (certain games only). Games that require BD mirror are now supported in lastGAME8 and above.
Changes in 1.3: Added support for lastGAME9 and lastGAME9 [COBRA].
Note: For BD-mirror feature,
multiMAN 04.50.xx
must be installed. BD-mirror setting is stored in the PS3GAME.INI created for each game by multiMAN or by
Game Settings Manager
Special thanks to master DeanK ;)



PS3 NET Server GUI 1.01 updated 2013-11-03!
It's an improved GUI for the PS3 NET Server (the PC side of multiMAN).
(hosts hide in system tray, remember last used folders, supports up to 10 hosts, white list, etc.)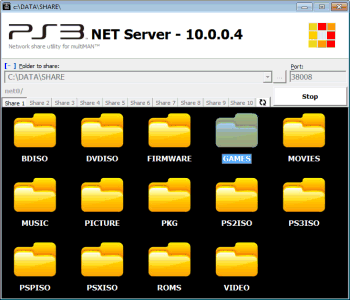 Changes: Includes the newest
ps3netsrv.exe
from DeanK with support for loading network games in JB/FOLDER format on
Cobra 7.0
and minor changes to GUI

PS3 HDD GUI 1.3 updated 2013-11-01!
It's a GUI for the PS3 HDD reader tool created by 3141card. Now includes a PS3 HDD Hex Viewer to view/dump sectors.


The tool is a simple on-the-fly decrypter and ufs2 reader that allows to browse the content of your gameos (dev_hdd0) and copy files and folders to PC.
PS3 HDD will only read (Nothing is written to the PS3 HDD, so it should be very safe). PS3 HDD for Slim and FAT models are now supported.
A virtualbox-image of linux with a kernel compiled for ufs read/write support is available
here
and a ufs read-only version is
here
. The commands are for slim hdd's only.

BruteForce/SCETool Decrypter 2.4 updated 2013-11-02!
A klicensee finder using scetool (based on Asure's brute force script) with heuristic algorithms for brute force attack. Once it finds the klicensee, the tool resign the EBOOT/SPRX/SELF with 3.40/3.55/4.20 keys. It also includes an updated FixELF tool and uses the tool by MAGIC333X (v1.3.1) for faster klicensee detection.



PS3 Games Database 1.5 updated 2013-10-28!
This tool lets you create a database of PS3 games and search through it easily.
You can build your own database of collected games in CSV format and use this tool to view and organize it.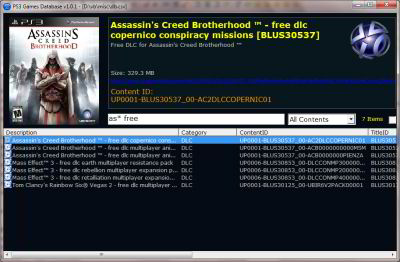 The db.csv included is just an example. You have to build your database yourself ;)
New features: replaced make_package_edat.exe with the new edat-license.exe by KW

Bruteforce EBOOT 1.3.1 new 2013-10-28!
This tool is more an EXPERIMENT than a real key finder... a 128bit key is expected to take milleniums to bruteforce it, but if you are extremely LUCKY you could find a rifkey using this method. Anyway, I'm sharing this because a friend asked me to make it to have some fun.


The tool generates random or sequential values and uses MAGIC333X's bruteforce tool to test thousands or millions of rifkeys per second.
New in this release:
- Added option to open the EBOOT by drag & drop of the file.

Bruteforce Edat 1.2.1 updated 2013-10-27!
It's a dev klicensee bruteforcer that can be used to find the klicensee used on edat files. It uses BuC's dev klicensee validator to test the potential keys and the superfast JjKkYu's EDAT dev_klic bruteforcer tool.


New in this release:
- BruteForce_List_Edat_Klicensees -> Added listing of the RAP in HEX format (if the rap file exists in the RAPS folder) (thank to ZOMBIEKILLAH for the idea)
Special thanks to
Catalinnc
for his awesome contribution discovering the klicensees!

PS3 Game Updates 3.0.5 updated 2013-10-24!
This application downloads PS3 and PSP/PSVita game updates and patches.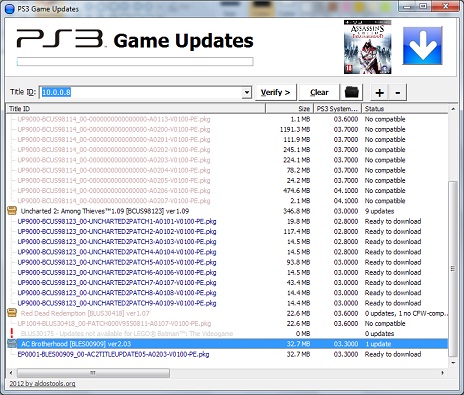 Features:
-Support concurrent queued downloads. new feature!
-The title id field accepts many formats of title id (eg: title id with/without dash, content id, URL of pkgs, etc).
-Search updates by name of the game.
-The title id field also accepts the path of GAMES or the IP of the PS3 (to scan multiple games).
-Show game patches 3.56+ in a different color (pink).
-Auto-detects game patches already downloaded (search in PS3_UPDATE, PS3_EXTRAS, and in the default download path) and show them in gray.
-Asks for confirmation to download patches 3.56 or higher. Required firmware version is appended to the name of the file.
-Show game cover and game description even if the game does not have updates.
-Auto-fix downloaded PKGs that required firmware 3.60

PS3 Cheats Editor 3.0.1 updated 2013-10-04!
Edits the cheats database for ps3usercheat (st.dat). Allows export/import cheats to the database in text and binary formats. 3.55 CFW is required.


Now the cheats compatible with the EBOOT hack can be identified easily. This version includes a cheats database for
660
games compiled by
gingerbread
@ ps3hax and a link to his discussion thread. Thanks to
@SkillerCMP
now the EBOOT patcher supports code type:
0T00
(8bit),
1T00
(16bit),
2T00
(32bit),
4T00
(Serial codes),
5T00
(Copy codes)

Features:
Creation of PKG for patched EBOOTs, improved tagging for cheats compatibility with EBOOT patch, updated the cheat database with gingerbread's update containing
660
games, fixed issue with version numbers and creation of PKG for disc EBOOTs.
* Special thanks to skillerCMP, gingerbread, BahumatLord, haxxxen and bungholio for the tutorial about converting CU codes.

PSP2PS3 2.1.2 "mod" updated 2013-05-09!
Based on the awesome scripts created by szczuru, and the tools created by Pink1, arnold (swapperneger), zecoxao, tpu, doobz, sandungas among others devs. This "mod" tries to streamline the process of conversion of PKG/ISO/CSO/PBP to PSP package for PS3. Latest versions include a GUI and improved compatibility.


Changes in v2.1.2
"mod by aldostools"
- Added option for resign tool to use: seboot or prxencrypter
- Added option to create PKG to update MINIS2.EDAT when a PKG was created and MINIS2.EDAT is updated.
- Added option to restore the MINIS2.TXT if it is not the default file.
- Fixed ICON0 for icons 80x80 (minis)
- Added ability to cancel the process
- Added progress bar for CSO and PKG
[+] Previous changes
Report your PSP compatibility results
here

PS3 Edat Tool GUI 1.0 new 2013-04-26!
It's a revamped and easy to use GUI for the command line EdatTool recently released. Now you can resign your Edats in an easy way.


Note:
Some edats require a Dev Klic that can be obtained using
Bruteforce Edat
.

New PS3Cheating.net Repository by gingerbread new 2013-04-15!
New site dedicated exclusively for PS3 cheating using PS3 Bruteforce Save Data (BSD) and PS3 Cheats Editor (PCE). Share your own cheats created with Patch Creator, discuss about existing cheats and help to improve the cheats repositories.



PS3 ConsoleID 1.0.3 updated 2013-03-31!
This tool displays the PSID and the ConsoleID from a bkpps3.bin dump or from a LV1 or LV2 dump created using multiMAN's mmOS or Rebug's Toolbox.

*UPDATE* Fixed display of idps from E3's bkpps3.bin (byte swapped) dumps. Added display of PSID (?) found at offset 0x000303E0. Now the tool displays the offsets where the ids were found.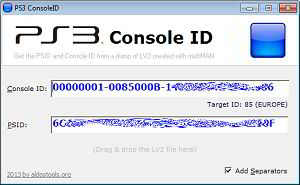 How to use:
Make a dump of your bkpps3.bin, LV1 or LV2 and drap & drop the dump file on the tool's window.
It will show the PSID, idps, Target ID and PS3 model found in the bkpps3.bin, LV1 or LV2.
You can drag & drop a dump of your NOR flash too.
PS2 Classics GUI 2.0 updated 2013-03-31!
It's a frontend for the recently released PS2Classic tool developed by psdev-net team. The tool allows to decrypt PS2 Classics for PS3 and encrypt any PS2 to play on PS3 (fat/slim).

TIP: Now you can convert your PS2 ISOs to PKG directly from Windows Explorer: Go to "Options" set the output mode to Package File, set a default path and enable Shell Integration.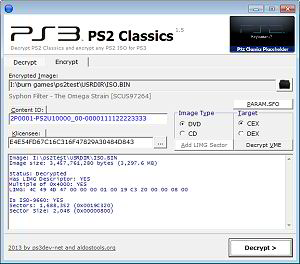 Changes in 2.0:
- New tab for creation of PS2 packages with custom icons and background.
(drag & drop or open any image and the program will create the images in the proper size)
Tip: Put custom images (ICON0, PIC0, PIC1, SND, etc.) in the folder PS2Covers for auto selection by title id during the PKG creation.

[+] Previous changes

Special thanks to flatz, u$er, Ing Pereira, ps3dev-net team and other anonymous talented devs ;)




PS3 Keys 1.5.6 updated 2013-03-21!
It's a tool to edit, verify and create the .ps3 keys in binary format and .rap/.edat files.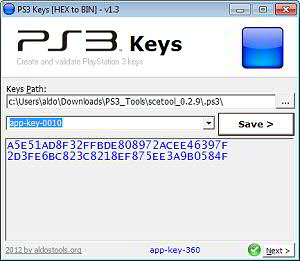 Version 1.1 allows to convert scetool's data\keys file into .ps3 keys binary format (click on the big blue icon for the menu).
Version 1.2 shows a visual alert (red cross icon) if the key is found in the Keys file, but the revision doesn't match.
Version 1.3 adds a report of keys in HTML and 'next' button to find the bad keys.
Version 1.5.5 adds support for .rap and .edat files (checks MD5).
Version 1.5.6 adds support for keys up to version 4.40.




mmDM 02.04.02 - [DEX Game Mounter] updated 2013-03-11!
It's a remote game mounter for PS3 DEX consoles. Requires the ProDG Target Manager to work. A x64 version is also available here. It works fast and seamlessly with multiMAN 04.06.02+ (DEX) thanks to the excellent job of deank with rcp_bdemu!!!.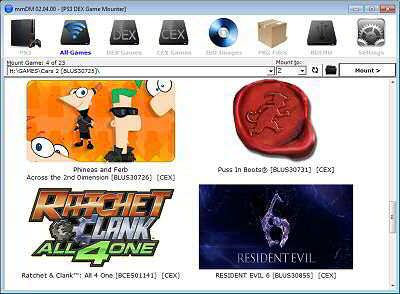 Changes:
- Added display of animated icons (ICON1.PAM) - Requires to have the codecs installed.




PS3 PSARC GUI 1.2 updated! 2013-03-11!
It's a graphical user interface to view, extract or create psarc archives.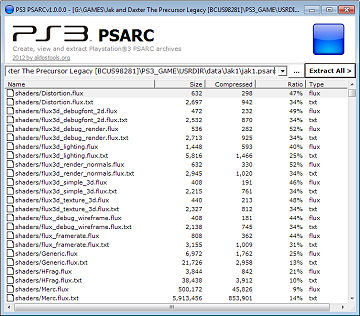 PS3 Ftp Data Sync 1.2 updated 2013-03-09!
It's a backup utility that copies the selected folders on the PS3 to a local folder on the PC. Only the new and modified files on the PS3 are downloaded to the PC (saving time in the backup process). The new files found on the Sync folder are copied back to the PS3.

Set the local folder to a DropDrox's folder and you have a cloud backup solution of your PS3 data :)

This version has an improved GUI, with browse capabilities and upload/download/delete of individual files.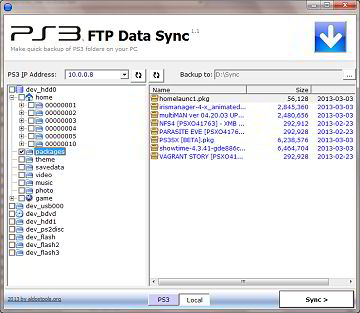 Game Settings Manager 1.0 new 2013-03-05!
Manage your multiMAN's game settings from the PC. Connect your USB drive to the PC, configure the settings and play with multiMAN on the PS3.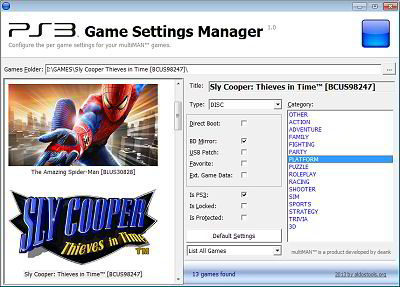 PS3 Game Integrity 1.3.1 updated 2013-02-13!
This tool calculates the MD5 or SHA-1 for a file or folder (and sub-directories) and generate a content.md5 file for future verification. If the content.md5 is present in the folder, the program reports if any file was deleted, added or changed. This tool is very useful to check if your game has missing or corrupted files due bad sectors, virus or cross-links (which are very common when an USB device is removed from the PS3 while it is turned on).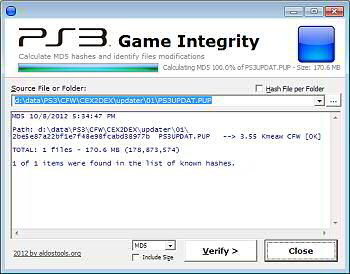 New: Fixed a bug introduced in 1.3 with the log files per folder.




rap management tools new 2013-02-05!
Keep your "rap" files collection clean with "remove bad files from exdata.bat" (a batch file that will remove the invalid "rap" files from your "exdata" folder) and delete_dups (a tool that will compare your rap files with the ones stored in another folder; deleting the duplicated files). Use them in conjunction with PS3 Game Integrity and PKG ContentID to keep your collection of raps organized.

TIP: My PS3 Keys tool can be used to create rap files, just entering the file name and pasting the 32 HEX digits.






Memory Card Manager 1.4 updated 2013-01-28!
After 10 years without touch this tool, I decided to update my Memory Card Manager, adding support for Virtual Memory Card formats used by PS3 and PSP (.VM1 and .VMP).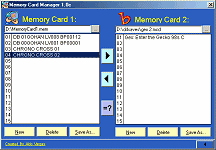 mmRAS Server 01.01.04 updated 2012-12-29!
multiMAN's Remote Access Service Server is a proof of concept that let you control your PC's mouse/screen directly from multiMAN's graphical user interface on the PS3. Requires multiMAN 04.17.00 or higher version.



Changelog:
* 01.01.04 fixed issue with Left and Square buttons, mapped L1 + R1 to F11 (full screen)
* 01.01.03 addressed a misplacement of the mouse pointer on the PS3 display
* 01.01.02 support up to 8 clients, whitelist of client IPs, minor optimizations
* 01.01.01 improved framerate... it requires to have .NET Framework (gdiplus) installed :D




mmTM_GUI 1.5.1 updated 2012-12-28!
It's a tool that verifies, pack and unpack multiMAN's theme files (THM).
(supports drag & drop of THM file, THM file as command line, browse for THM file)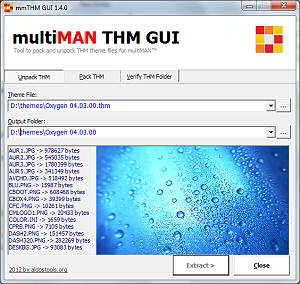 mmRAS 01.02.02 updated 2013-03-18!
multiMAN Remote Access Service client lets you browse multiMAN's graphical user interface from a PC. Requires multiMAN 04.16.03 or a higher version.



BdEmu Partitions Tool 01.05.05 updated 2012-10-20!
It's a tool to manage the size of the partitions of HDD formated for BDEMU, used by PS3 development consoles. It allows to create up to 255 partitions (if your HDD has the capacity), rename partitions and extract BDEMU files. BDEMU partition can be resized to use only the space allocated by the slots.


Changes:
- Added option to remove all slots.
- Replaced the file injection with 'Resize slot to BDEMU file size'.




ps3gen patcher 1.2 updated 2012-09-18!
Patches the genelib.dll to add support up to 255 slots in a BDEMU hard drive (instead of only 4) and start the Disc Image Generator for PlayStation®3 (ps3gen) 3.30 or 3.12. Just copy the start_ps3gen.exe in the same folder of ps3gen.exe and use it everytime you need to change the default number of slots.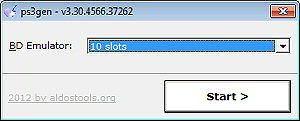 PS3RIP 1.2.1 updated 2012-08-15!
It's a tool that should help you gain some space on your external HDD, removing unnecessary files.
Changes: Updated the patterns.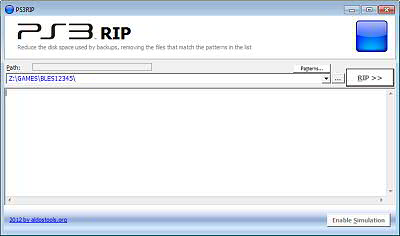 PS3 Tools Menu 1.0 new 2012-08-15!
It's a customizable application launcher. Use it to organize your tools, links and folders.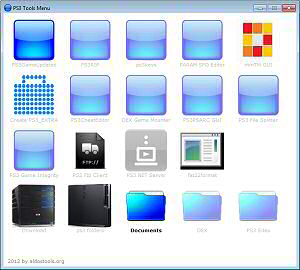 PS3 File Splitter 1.3 updated 2012-08-15!
Split files larger that 4GiB to fit in USB drives formatted with FAT32. It also can join the splitted files, and copy directories containing large files.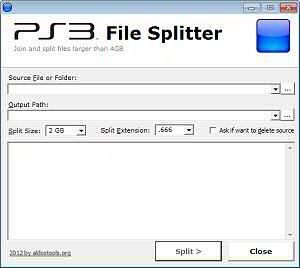 PS3_DISC.SFB edit 1.1 new 2012-08-15!
It's a quick way to edit the title id of PS3_DISC.SFB. I was tired of use an hex editor for that :)




TXT to Links.xml 1.1
It's a tool to convert text files with URL to links for the XMB Manager+ 0.22.010-mod originally released by Team XMBM+. All you have to do is put a text file with all the links (description and url in separate lines) and it will add the XML code to the Links.xml



EP0001-PKGMANAGE_00-XMBMANPLUS010MOD.pkg is a mod of Rebug's PKG Installer 1.1 to flash the category_game.xml required by the XMBM+ 0.22.010-mod for 3.55 Kmeaw.



renam 1.0
This tool, if copied to the GAMES or GAMEZ folder, will rename the games sub-folders from the default "BLUS00000-[Title]" format to "Title [BLUS00000]".